Teamwork is a critical part of any business and team building is key to success. Teamwork comes in many different forms, but it's always important for employees to know what each other's strengths and weaknesses are.
It's also important for teams to communicate effectively and this is where slogans can come into play. We've put together a list of some of our favorite team slogans that will help you build a strong team in your company.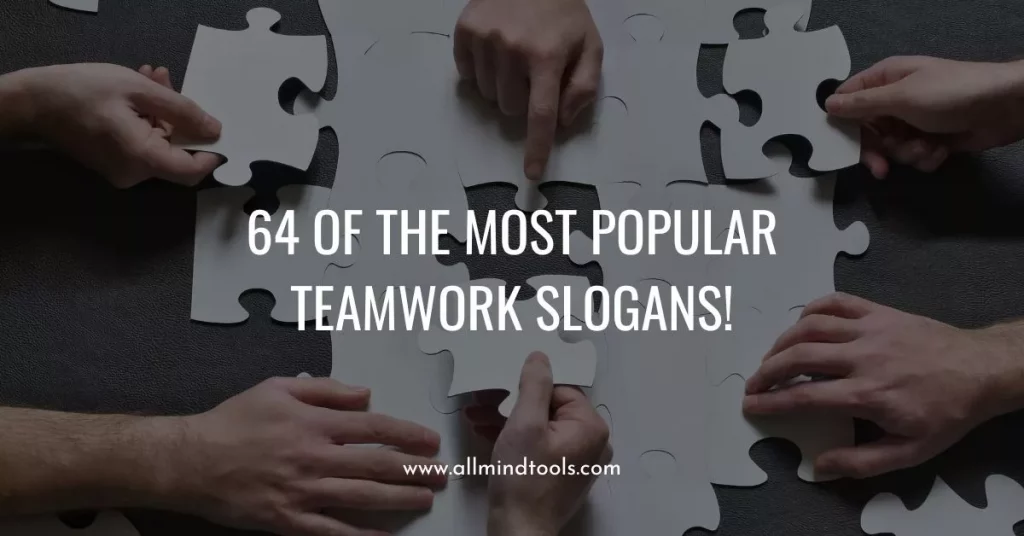 Short teamwork slogans
We are Family.
Together we can.
Unity in Adversity.
Team up to safety.
There is no I in Team.
One team, one dream.
One team one mission.
We believe in each other.
11 players one heartbeat.
Together we can do more.
In union there is strength.
We are all in this together.
Work together for success.
Surrender the ME for the WE.
There is no "I" in "teamwork".
One spirit, one team, one win.
Our warm-up is your workout.
United we play. United we win.
You are only good as your team.
Out of yourself and into the team.
Together Everyone Achieves More.
Teamwork makes the dream work.
None of us is as smart as all of us.
Nobody can achieve success alone.
Sticks in a bundle are unbreakable.
A team above all. Above all a team.
Bringing out the best in each other!
We are all making a difference here.
No water is too cold for a team so hot.
You may be strong but we are stronger.
Our workouts are longer than our shorts.
A job worth doing is worth doing together.
Don't wear your team's colors – bleed them.
Medium Teamwork slogans
Team means Together Everyone Achieves More.
We work as a team because Peace is our Dream.
Teamwork means not having to take all the blame.
Talent wins games, Teamwork wins Championships!
Teamwork divided the task and multiplies the success.
Alone we can do so little; together we can do so much.
The way a team plays as a whole determines its success.
Together we achieve that which no one can achieve alone.
Our Spandex might be tight but my team and I are tighter.
Individually we are one drop but together we are an ocean.
Together we stand, together we fall. All for one and one for all!
We may be strong as individuals but together we are invincible.
If you want to go fast, go alone. If you want to go far, go together.
Talent wins games, but teamwork and intelligence win championships.
We play together, we win together; We lose together, We stay together.
We have promises to keep, teams, to beat, and miles to go before we sleep.
Coming together, sharing together, working together, succeeding together.
One person struggles, we all struggle. One person triumphs, we all triumph.
All the talent in the world won't take you anywhere without your teammates.
Long Teamwork slogans
One man can be a crucial ingredient in a team, but one man cannot make a team.
There is no limit to what you can accomplish when nobody cares who gets the credit.
Teamwork is the beauty of basketball; with five people working as one, you become selfless.
We push each other to get better; we could never be as good alone as we are together.
Whether we play a large or small role, by working together we achieve our objectives.
Ask not what your teammates can do for you. Ask what you can do for your teammates.
Coming together is a beginning. Keeping together is progress. Working together is a success.
You might forget the plays, the shots, and the scores, but you'll never forget your teammates.
A team is not a group of people who work together, a team is a group of people who trust each other.
A good team becomes great when the members trust each other enough to surrender me for us.
On a team, it's not the strength of the individual players, but it is the strength of the unit and how they all function together.
I am a member of a team, and I rely on the team, I defer to it and sacrifice for it, because the team, not the individual, is the ultimate champion.
Why Teamwork Slogans are important?
Teamwork Slogans are the most popular way to motivate people in a group. A slogan is usually short and simple. It is something that you can easily remember. Most of the slogans will remind you of a time when you helped someone. This is why they are so effective in motivating people.
A slogan can also be used to motivate employees of a business. This is the case when a company has an official slogan. It is also possible to use slogans to encourage customers to buy more.
We know that teamwork is important. People in groups work better together than apart. People who work together achieve a higher level of productivity and quality than people who do things alone.
The Bottom Line
Finally; what do you think about these slogans? Write your comment; and if you have some good slogans, go ahead and write it down in the comment section, then share this post with your friends assuming of course you've enjoyed it.