As the manager you have many issues; you confront questions and problems, your decisions usually make big impacts and it is your responsibility to accomplish the organization's objectives and motivate and mentor your team. With all these issues How to be a good manager.
To be a good manager you should be focused on how to avoid problems and how the people like you and follow you. In the following tips, we will teach you how to be a good manager.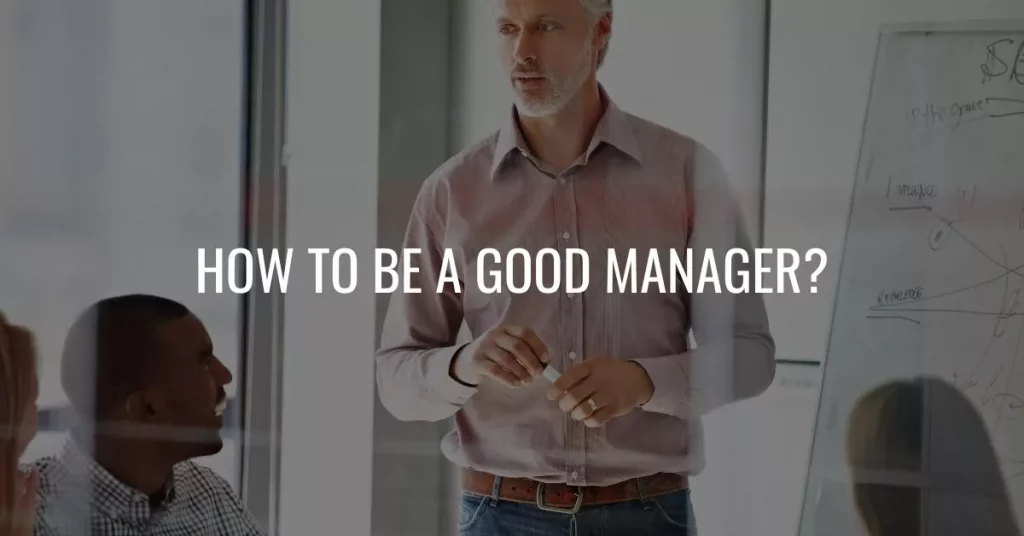 To be a good manager set clear goals and expectations
Setting goals is one of the most important skills that a manager needs to succeed, develop the employees, and achieve his goals, the team's goals, and the organization's goals.
To be a good manager you should be clear and direct with your team so as the manager you should set goals with your team and discuss with them the expectations about performance, job description, and appropriate and inappropriate behavior in the workplace.
By setting clear goals and expectations you will be able to know what you should do, and what your team should do; and in this way, you will be able to:
Set measurable standards for the review system: Assume that you manage the people without clear goals and want to make performance appraisals for your people; what are the criteria are considered to rate your people? Without clear goals and expectations, you won't be able to set specific criteria to rate them.
Mentor your team: without clear goals, you will be confused about how to mentor your team, or in other words, the clear goals are your guide to mentoring.
Accomplish organization's goals: accomplishing the organization's goals is one of the considered criteria to rate any manager so the manager should set clear goals and expectations for his team or for the individual, and those goals must be aligned with the organization's goals.
Care about your people:
"Take care of your people and they will take care of your customers." J. Willard Marriott.
To be a good manager you should care about your people, show them you care, and make people feel well because the employees go above and beyond for the company when they feel valued and appreciated by their manager.
Tell your team how much you appreciate them for their efforts: they are hard workers, they are easy to coach and they effectively motivate other people. By appreciating the people they will work hard, enjoy their jobs and struggle to achieve the company goals.
Give your team more than usual: Help them to achieve their career goals, and reward them when they make unusual efforts or outstanding performances.
Motivate your team in unusual ways: You can surprise your team by sending gifts, coupons, tickets, or something like that to their home with your thanks
Don't overload your stuff: It's not good to assign many tasks within a short time because they will not afford
Improve their social-being: it's important to keep in mind the social-being and work-life balance issues for your team; you can do this by joining a club and meeting new friends or attending events.
Develop your people skills
Developing your people skills is the responsibility of the manager so as a manager you should make sure that your team is growing in order to meet the goals and objectives and equipped to do their job.
It's difficult to improve the employees' performance, achieve new goals or achieve new successes without developing your people skills so how to develop your people skills:
By attending courses
Sharing your experiences
Coaching and mentoring
And by creating a feedback system.
Build positive relationships:
To be a good manager you should build positive relationships with your team, sub-coordinators, co-workers and customers:
ْWith costumers:
To get new customers you should build a positive relationship with your existing customers. You can build a positive relationship with your customers by making great customer service, making discounts on your products, and adding the greatest value to your products.
With your team:
Your team is your power and your success so you should build a good relationship with them; maybe by listening to them, giving them your time, smiling always at them, and rewarding them for their efforts.
With sub-coordinators and co-workers:
The positive relationship with your Sub-coordinators and co-workers makes your job so easy and without any tension or stress. You can build this good relationship by using effective communications and connections, practicing common courtesy, being humble, and sharing your resources with them.
Break down the big goals into small goals:
To motivate your team and achieve the organization's goal break down the big goals into small goals to be more achievable. This way is an easy way to achieve big goals and makes your goals more realistic
So write down your big goals, break down them into small goals, create a plan of action, start to execute your plan, recruit any needed support from colleagues, mentors, significant others or a professional coach then achieve your big goals. How to be a good manager.
Having technical skills
To manage the people you should know how your business works because many managers fail in achieving goals because they don't have any technical skills.
You shouldn't know all the technical information but you should know all information that makes you able to take the right decisions.
Hire the right people in the right position:
Because the employee is the main factor in any business for achieving success and without an effective team having high-quality skills; it's impossible to build a brand, develop a product or add value to your customers.
And by hiring the good people the work problems will be minimized or by other words "hire the good people then forget them".
So to be a good manager you should hire the good people in the suitable position, and you can do this by:
Preparing a well-structured interview.
Make suitable tests before hiring.
Creating detailed job descriptions
And setting good criteria for hiring and new positions.