As it is believed for many years that colognes are for men and perfumes are for women, but it is not the case. Both men and women can wear cologne as it is labeled only by perfume oil percentage present in a volume. That is why you have seen in the labeling or in the perfume content the portion of the essential oil is always mentioned on the bottle.
The colognes have less perfume oil present when compare to the perfumes that are why it is lighter in smell, but it may vary from one cologne to another. Therefore both men and women can wear it for office, work or any official meeting which will keep you smelling good for long working hours.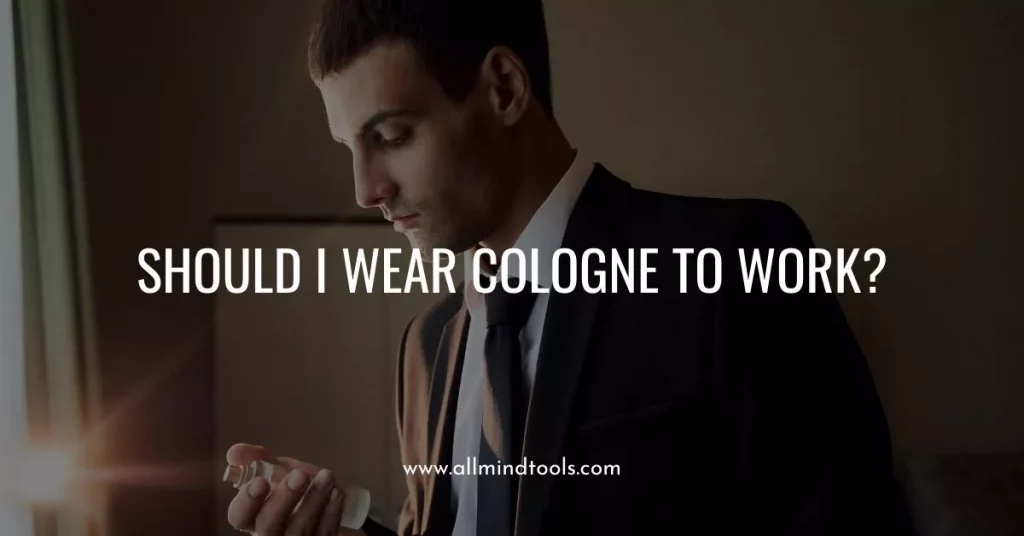 Why is it important to wear cologne?
Most of the office timings are between 8 am to 5 pm which takes the hottest part of the day, which means you will sweat more. Whether your office has central air conditioning or not, the crowd and small office space will produce more sweat than the usual house routine which is why you might end up with body odor.
Also, the work calls might produce more stress which can cause stress sweating and boost us the odor of some people. Remaining in front of chilling air conditioning might not be a solution as you need to run here and there to complete the projects and tasks that is why most people suffer from active sweat more than anything else while working.
Usually, we have lots of people in the office, more than we typically have at home and small spaces and cabins of office or work make it more challenging to remain aside from human interaction.
Therefore while you come near or communicate with others, they can also feel and smell your body odor which is one of the biggest embracements for others as well as it might also damage your image in front of others.
As much as you need to maintain your hygiene, it is essential to do it for others. You need to make sure that you are not disturbing others with your smell and especially when you are at your workplace where people know you, and you have an image to maintain you need to smell good too. It will help you remain active and have full confidence while working as well as you might get a compliment from your colleagues on your cologne or scent.
Which cologne should I pick for work/office?
Floral scents:
The floral scents are best for women, but men can wear them too especially when it is mixed with other fragrance. It is the best scent for the office and works as it gives a refreshing feeling, boosts up your morning mood, and helps you feel better too.
Fruity scents:
If you want a little kick of fruity fragrance then it is the right choice as it gives you a stable mood as well as best for those who sweat much. You can pick a melon, lime, peach, or any other fragrance according to your liking.
Green scents:
If you are looking for some underlying and fresh tones then this is the right choice for you as it not only helps you think positive but is the best one to go in the morning especially when you need to focus on work.
Tips to wear cologne at work:
When we talk about the importance of wearing colognes at work, you must also keep in mind which scents go best with the workplace. You must consider the following things before picking up a cologne or perfume for your office:
You can pick an expensive and elegant scent for an official meeting where you are meeting with some influential people.
You can wear a refreshing cologne on a daily basis which will not disturb your colleagues when you are going to work on a regular basis.
Pick the lighter tones but those which remain for long hours, at least for 5 to 6 hours as you might not get time to reapply it, and at the end of the day, you don't want to smell like sweat.
Keep in mind the office space, work routine, or event in the office. If there is something special or you have to catch up a meeting, friends get together or a date later after the appointment you can also wear more strong smells or the colognes which last till entire day.
If you have someone in your office that has an allergy to the strong fragrance, try to avoid wearing base notes which will affect them. Also in case you or your colleagues are facing any allergies, you must keep the colognes in lighter notes which will don't disturb them, and you will feel fresh at the same time.
How should I wear cologne at work?
It is essential to learn how you should wear cologne at work because you have to meet new people every day as well as you have an image to maintain with your old colleagues.
That is why always tried to take a shower in the morning, it helps to wash out the entire odor from your body, and no smell of any other cologne is left behind. Then on the dry and clean skin, wear the cologne and then dress up for your office.