How Managers Become Leaders. Few career transitions are more difficult than making the jump from unit-level manager to company-level executive. Career transition expert "Michael Watkins" interviewed executives, leadership mentors, and HR professionals, and identified seven key changes new leaders need to be successful. He calls them seismic shifts.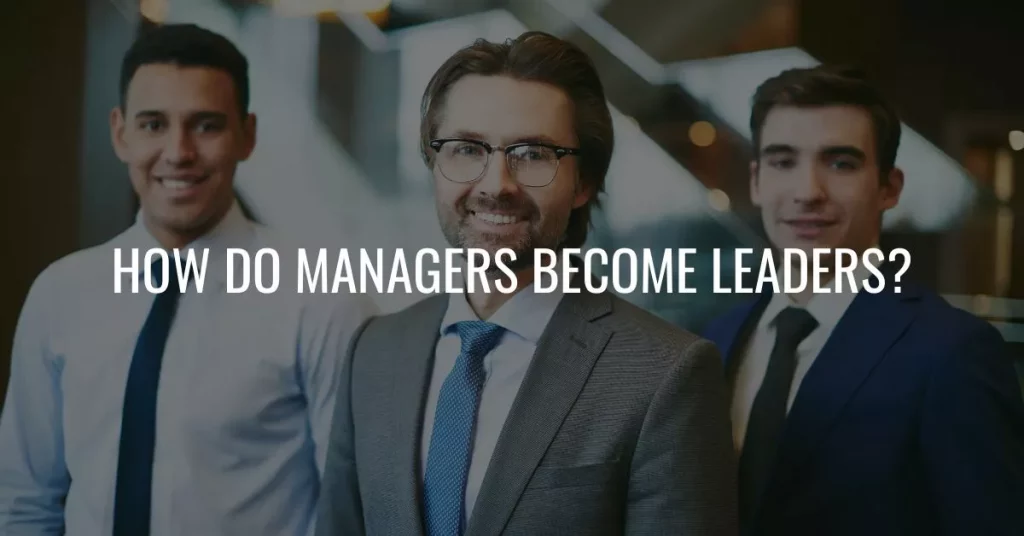 1- Managers become leaders by shifting from specialist to generalist
First, let's talk about the most common traps: overmanaging the function you know well and under-managing the rest.
Shifting from specialist to generalist means resisting the urge to stay in your comfort zone. Consider the story of a sales executive, Yusef, who worked at a European chemical company. He was promoted from being VP of sales and marketing with a team of 200 people to becoming the head of the company's plastic resins unit – leading more than 3000 employees.
Feeling disoriented and unsure of himself, he initially clung to what he knows best. But Yusef's company had surrounded him with a seasoned team who gave him blunt feedback. One adviser told him, "You're driving your VP of sales crazy! You need to back off". The team also provided guidance in critical areas where he had less experience.
Company-level executives need to understand the subcultures, metrics, and language of all the company functions and become familiar with the tools they use to solve business problems. In areas where you don't have the expertise, you will need to learn what questions to ask.
2- Transition from analyst to integrator
The second transition (how managers become leaders) is from analyst to integrator. Unit leaders manage people who work on specific business activities but an enterprise leader's job is to integrate the collective knowledge of functional teams to solve organizational problems.
In Yusef's case, his sales VP wanted to go to market with a new product, but his head of operations worried that production couldn't ramp up quickly enough.
To resolve conflicts like this, Yousef had to balance the needs of various functions, consider the impact on both quarterly results and long-term investments, and figure out how much attention to devote to execution versus innovation.
At the enterprise level, understanding trade-offs and explaining decisions effectively become some of leaders' most important skills.
3- Transition from tactician to strategist
For many leaders, focusing on tactical issues is seductive —the activities are concrete, and the results are immediate. It's tempting to lose yourself in the day-to-day flow of attending meetings, putting out fires, and pushing projects over the finish line. But the leader's role is to be the strategist-in-chief.
Making the transition from tactician to strategist requires three key skills:
Level shifting means knowing when to focus on the details or the big picture, and how the two relate.
Pattern recognition entails identifying important causal relationships in a complex environment,
Mental simulation involves anticipating how outside parties such as competitors, regulators, and the media will respond to what you do.
4- Shifting from bricklayer to architect
The shift from bricklayer to architect often trips people up. New executives tend to charge in, itching to make their mark.
They might shake things up with a major reorg, or change strategic direction with a different business model, but to be effective, you need to think in terms of systems.
You have to understand how the business's strategy, structure, processes, and capabilities fit together; you can alter one element without thinking through the implications for all the others.
5- Transition from problem solver to agenda setter
Many managers are promoted for their ability to solve problems but when you become an enterprise leader your job is to define the problems that the organization should tackle. To do that you need to identify the landscape of opportunities and threats facing your business.
You also have to understand the "white spaces", and issue such as diversity that doesn't fall neatly into any one function but are still important
6- Shifting from warrior to diplomat
The shift from warrior to diplomat means that you'll spend much less time "marshaling the troops" and more time engaging and influencing a full range of stakeholders. You'll be bombarded with requests from groups both inside and outside the organization, such as "Will you host an industry forum sponsored by the governmental affairs department?" and "How soon can you meet with a key group of institutional investors?"
To address the concerns of your stakeholders in a way that supports your firm's objectives, you'll need skills in negotiation, persuasion, conflict management, and alliance building.
7- Shifting from supporting cast to lead role
Finally,(how managers become leaders) becoming an enterprise leader means moving out of the wings and taking center stage. You might find the constant scrutiny unnerving, or be surprised by how much stock people put in what you say and do.
If you make offhand suggestions about a new way to package a product, a full feasibility report might very well land on your desk in a matter of weeks.
All managers are role models to some degree. But at the enterprise level, everyone looks to you for vision, inspiration, and cues about behaviors and attitudes, cultivate self-awareness and empathy with other people's viewpoints.
Find new channels for communicating.
Returning to our example, Yusef was used to maintaining some degree of personal contact with most of his employees.
But now that he was overseeing thousands of people around the globe, his old ways of communicating and motivating didn't work. When the time came to share the annual strategy with the organization, he realized that he couldn't simply go out and sell it in person; he had to work through his direct reports and find other channels, such as video, for spreading the word.
Different strategies for different stages
Now that we've looked at all the shifts, let's take a look at strategies for preparing to take on an Enterprise leadership role. Your approach will depend largely on whether you're an aspiring leader or a more seasoned manager.
Strategies for aspiring leaders
Early on, you should volunteer to take the lead on cross-functional projects, and seek exposure to a broad range of business situations — for instance starting up a business leading a turnaround, and shutting down an initiative.
You should also raise your hand for international assignments to develop a more Global Perspective.
Strategies for seasoned managers
Once you've shown leadership promise, it's important to gain experience with external stakeholders, such as investors, the media, and key customers.
You'll also want to tap other leaders for mentoring as you face bigger and bigger challenges, such as integrating an acquisition or leading a reorg.
Cultivate your external networks.
And when you can, attend executive training programs on essential capabilities like organizational design, improving business processes, and managing change.
How can your company support you?
When you're ready to step up, your company can support you by:
Placing you in a unit that's small and thriving. You'll be able to focus on taking your skills to the next level without a constant barrage of urgent problems demanding your attention.
Your company should also make sure you have an experienced and assertive team you can learn from and rely on. as Youssef learned having a seasoned team to guide you as you make the transition is essential.
The transformation from manager to leader involves letting go of many of the attributes that got you where you are, and embracing a new, more holistic mindset.
There's no substitute for actually making decisions and learning from them, but understanding the seven seismic shifts can prepare you for a successful first step into Senior Management.